March 2014
Kittelberger demonstrates innovative solutions at Cebit 2014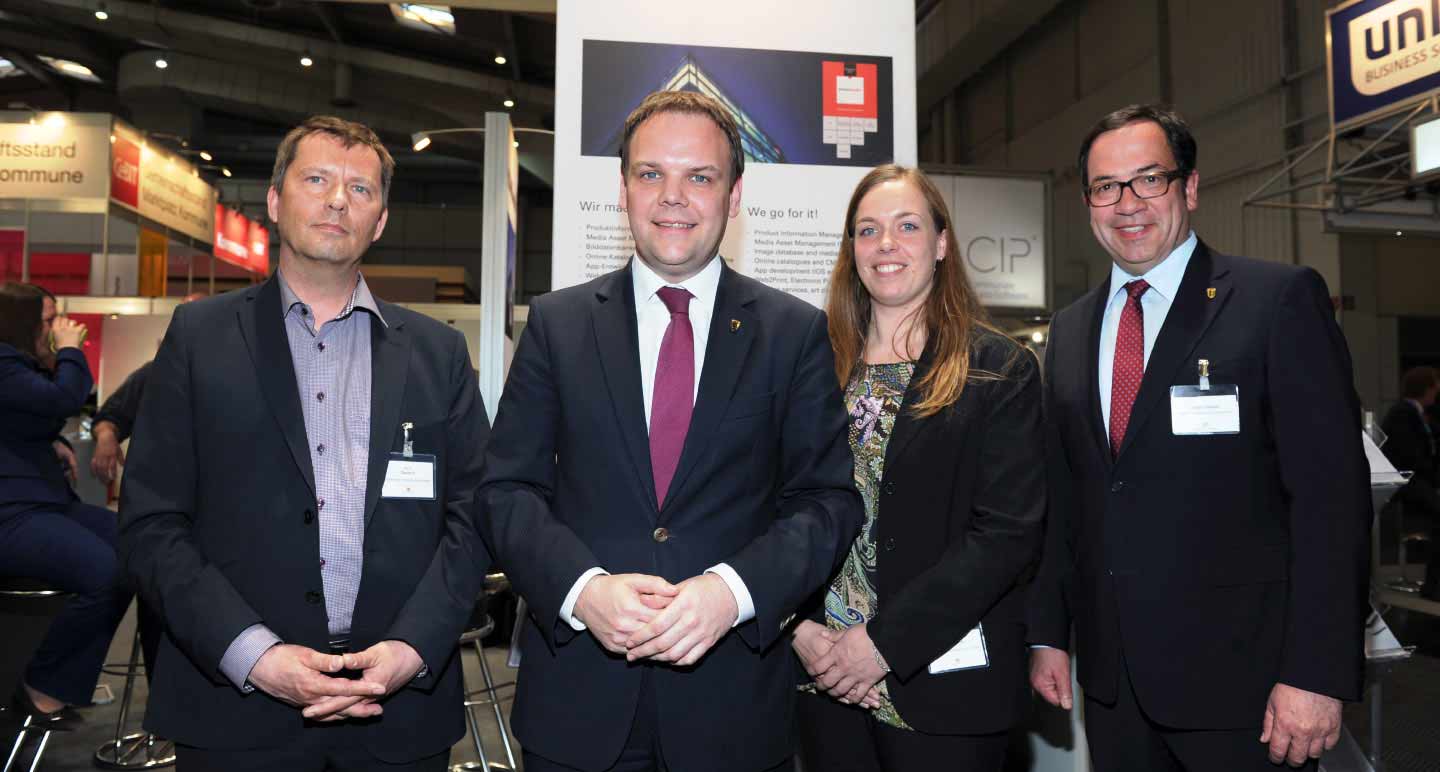 PIM and MAM solutions
The CeBIT exhibition in Hanover is regarded as an key platform for innovations and business in the IT industry. From 10 to 14 March 2014, Kittelberger media solutions GmbH presented a comprehensive portfolio of solutions for product information management, media management, e-commerce and the automated production of catalogues. The focus was on the proprietary advastamedia® software suite for PIM und MAM and on the Kittelberger subsidiary Commerce21, which is an e-commerce company for shop management and online specials.

Several Kittelberger customers used this opportunity to visit the stand and learn all about technologies and trends for themselves. Ingo Rust, State Secretary from the Baden-Württemberg Ministry of Finance and Economy, showed a keen interest in the company from Reutlingen and was visibly impressed by the wide range of applications offered by advastamedia® database solutions.
Integrated PIM and MAM for media-neutral data storage
At the trade fair, Kittelberger media solutions GmbH presented itself as an IT service provider for up-to-date solutions in data management – from maintenance through to output systems. The advastamedia® software suite which Kittelberger developed for these applications has been in use in large and medium-size companies for over 15 years. The integrated PIM and MAM modules are particularly powerful in the field of products which require explanation and in mass data storage and modelling.
Economies of scale from single source publishing – in e-commerce as well
In the past, Kittelberger media solutions has succeeded in continuously extending its service portfolio – both in the development of the advastamedia® suite and in output channel technologies. Managing Director Jürgen Frücht cites the new PDF Framework to output catalogue contents, display product data in apps and apply new technologies in the online sector, just to mention a few examples. These functions are all the more important in the e-commerce segment where data quality is often a vital factor affecting purchase decisions in the competition for winning customers.
"Poor data quality quickly leads to negative effects, ultimately resulting in returns and low customer satisfaction. In extreme cases this can even result in product liability litigation," explains Jürgen Schwitzer, Head of E-Business at Kittelberger and Managing Director of the subsidiary Commerce21. The full service agency offers a broad portfolio in the e-commerce sector with services such as consultancy, implementation, marketing, shop management, logistics and handling payments.

"Data modelling and processing facilitate the output process significantly in practically all segments. And this quickly leads to economies of scale in the use of data," explains Frücht.
Do you have a question about this topic?