August 2015
advastamedia® Mediapool - more than just managing digital assets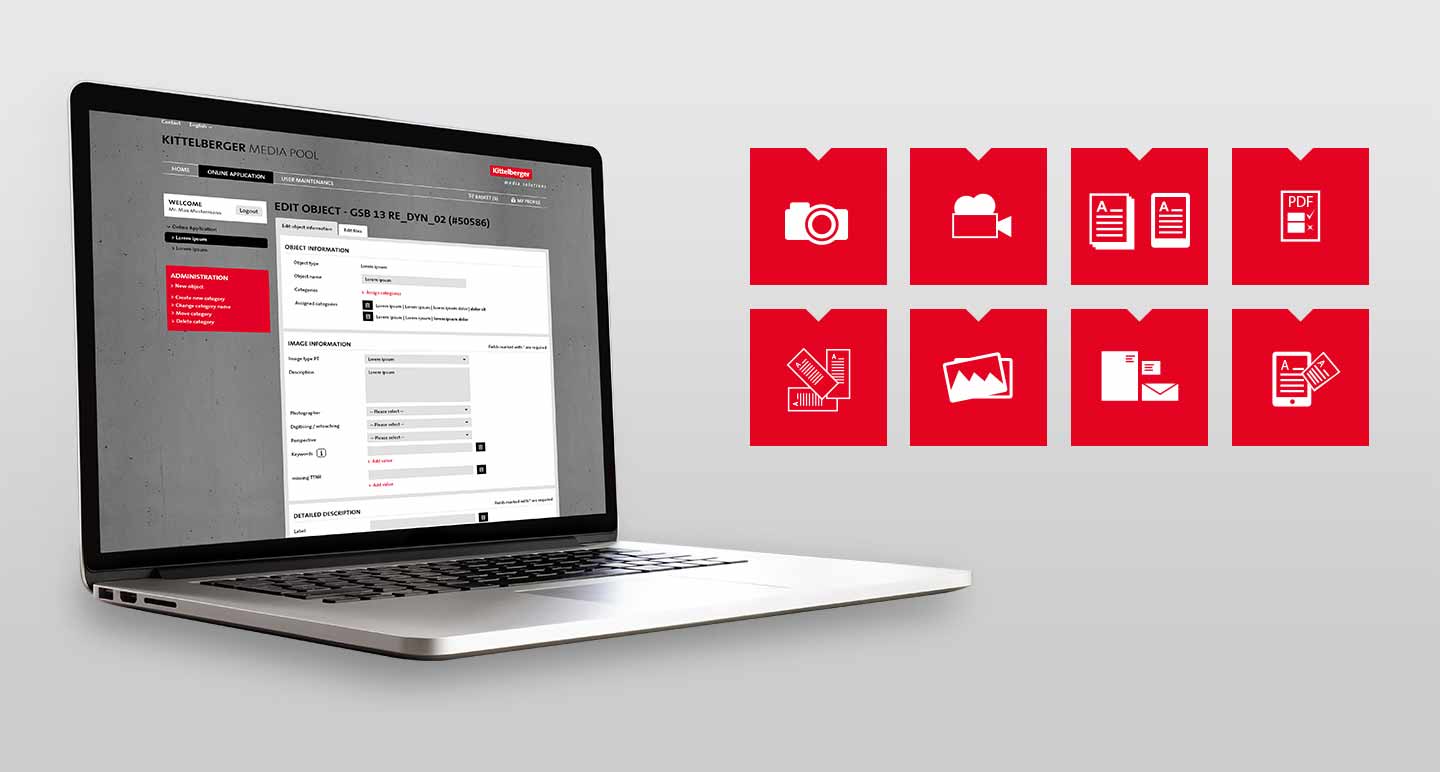 The Standard Mediapool is a media asset management system capable of managing the following media: images and graphics (in various resolutions and variants), animations, films, audio files, print media (e.g. brochures, flyers, advertisements, data sheets) including fine data, Office documents (Word, Excel, PPT) and much more.

This data can be viewed internally or released for data exchange with external partners. For example, agencies and journalists can be supplied with media material. The advastamedia® Standard Mediapool is browser-based and is therefore accessible to users over the web.
Overview of Mediapool functions
Role-based access such as "Administration", "Maintenance", "Presentation" and independent user management for frontend and backend
New objects can be created, edited or deleted depending on the role assigned
Automatic functions to generate image variants: tif and jpg are created automatically when an EPS file is uploaded
Batch processing and mass keywording for common features
Downloading objects with basket function, download gallery and e-mail distribution
Navigation structure according to products or media: the same navigation structure can be used as in the catalogue, online catalogue, etc.
Various filter functions, e.g. by status, image type, object type etc.
Use of the latest search technologies with Solr Search
Use of latest search technology
Various filter and search functions simplify the search for the right media A Solr Search is used as search function. It is very fast due to the indexing of defined attributes and offers various optimisation functions. It is comparable to Google Search. The fields scanned are defined in collaboration with the customer.

One or several terms can be entered in the search field. An AND search scans the attributes listed above and the objects in which all terms occur are displayed. The search field may also include an information text which can also be searched.

The Mediapool is combinable with the product and media database. This link provides the option of navigating by product and/or by media. This allows the display of all the media which exist for a particular product. On the other hand, users can also navigate by media type, e.g. to display all flyers or all videos stored in the Mediapool.
Download and basket functions
The basket function can be used to select individual files or several objects. They can then be downloaded from the download centre or sent and received as zip file. The advastamedia® Standard Mediapool is also used as the basis for custom Mediapool solutions. Operating the Mediapool is intuitive and can be adapted to user requirements.
Do you have a question about this topic?